We've all heard that age old phrase "live in the moment" – capture new opportunities as they arise, rather than letting them pass you by. It's a good piece of advice in life and now in business too. Whether you've embraced the digital world or not (and we hope you have), it's here and it presents many opportunities for small to mid-size businesses. You just have to use it to your advantage.
What does it mean to 'run live'?
Running live allows your company to seize those moments of opportunity. With ERP systems that give you real-time information, you can identify trends as they're happening and adapt accordingly. You can jump on new opportunities that your competitors have yet to pick up on. And you can learn more about your business and your customers, giving you the ability to fine tune your processes and achieve wins across the business.
This infographic from SAP demonstrates the impact live systems can have for SMBs. The biggest one – giving you the real-time information you need to compete with larger companies and top competitors.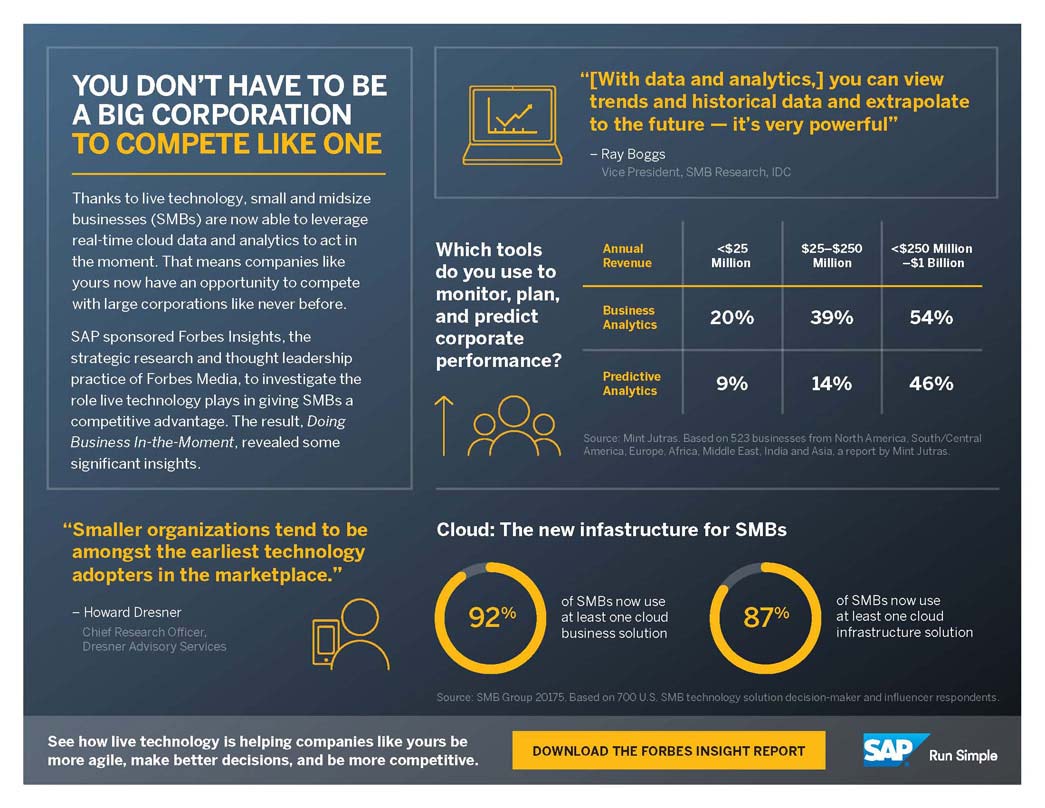 Achieve future growth by operating 'in the moment'
Running your business in the moment really comes down to data – having the data you need, when you need it to make key decisions that impact your company's future. Your ERP system is central to this. For wholesale distributors, seeing your inventory in real-time can help you avoid stock-outs. For field service companies, it means your entire team has up-to-date information on your jobs anytime, anywhere.
From your perspective as a business owner or manager, you can make better, more timely decisions based on reliable data. You're able to act more like your big competitors – using predictive analytics to identify trends in your historical data and extrapolate to the future to make proactive decisions.
On the flip side, you can make use of real-time data to tailor your customers' experiences to their needs. They get better, more relevant information. And when they have an outstanding, personalized experience, they want to purchase from you again, helping you grow your sales and your customer base as they share their experiences with others.
SAP Business One is the key that allows you to achieve all of this. Get a sneak peak below to see how you can run live with SAP Business One.