Evolve Your Family-owned Distribution Business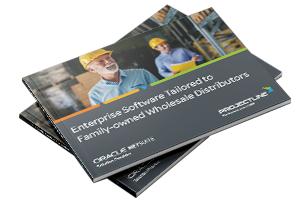 As younger generations move into leadership roles at growing family-run wholesale distribution companies, they want to make their mark. Replacing homegrown business systems with unified solutions is often top of the list.
In this eBook, you'll learn how NetSuite, a leading cloud ERP platform, can move your family business into the next stage of growth by providing:
Complete procurement visibility

Real-time inventory management

Easy integrations with shipping solutions

eCommerce portals for suppliers, customers and sales partners
Why explore ERP now?
For any distributor that's constrained by its systems right now, the situation is only going to get worse. It's getting way too expensive to just hire more people – automating your systems will make you more competitive and more agile, so you can stay ahead of your competitors.
Download the eBook