Not Sure Which Cloud ERP Model is Right For You?
Download our eBook for answers to all your questions!
Our guide helps you understand the options and evaluate which best fits your business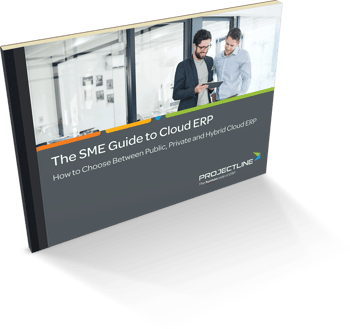 We hear a lot of talk about 'the cloud', as if it's one singular approach to data storage. It's not that simple. There are different approaches to cloud and each one comes with its own advantages and disadvantages.
Many companies jump to the conclusion that 'true public cloud' (SaaS) is a must-have. And it makes sense for a lot of businesses.
But choosing a cloud ERP solution isn't one-size-fits-all. Your business structure, industry compliance standards and user requirements all factor in.
Our guide to cloud ERP deployment models will help you answer these questions:
What's the difference between public, private and hybrid cloud?
What are the pros and cons of each model?
Do my business workflows matter when selecting a cloud ERP deployment model? What should I consider?
How does the ERP deployment model affect the level of control I have over my data?
We're talking about a mission critical system that runs your entire business, so it's important to get this decision right. Download the eBook to understand your options for ERP deployment and how to find the solution that best fits your business.
Get Your Guide to Cloud ERP Today!