As you're evaluating SAP Business One, you'll discover that there are two database options – Microsoft SQL and SAP HANA. Unless you're super tech-savvy, you're probably asking a few questions…
What's the difference between SQL and HANA? Does the database change the functionality we get with SAP Business One? How do we know which database we need?
In this article, we'll answer all these questions and more. Our goal is to help you understand your options, but the right version of SAP Business One ultimately depends on your business requirements. That's why it's best to chat with an SAP Business One expert – they'll get to know your business and make a recommendation based on your needs.
What's the difference between SQL and SAP HANA?
The primary difference is in the database technology. Microsoft SQL is based on a disk storage database technology. SAP HANA (High Performance Analytical Appliance) is an in-memory database that's optimized for high transactional and analytical workloads. Essentially, if you're processing large amounts of data, an in-memory database will maintain speed and prevent performance issues.
What features are different in SAP Business One, version for HANA?
When SAP Business One was first introduced on the HANA platform, there was a wider disparity in functionality compared to the SQL version. But in the last couple years, we've seen that gap shrinking, with most new features being released in both the HANA and SQL versions. Continued development of the web client is also levelling the playing field, as more functionality is being brought into the browser application.
That being said, there are still a few key differences in functionality between the two platforms.
1. User Interface
The first thing you'll notice if you're looking at the HANA and SQL versions of SAP Business One side-by-side is the user interface. The HANA version is admittedly nicer to look at – it simply has a more modern feel. While user experience is important, looks aren't everything. The functionality between the two versions is comparable, reducing the user interface to a matter of preference more than anything else.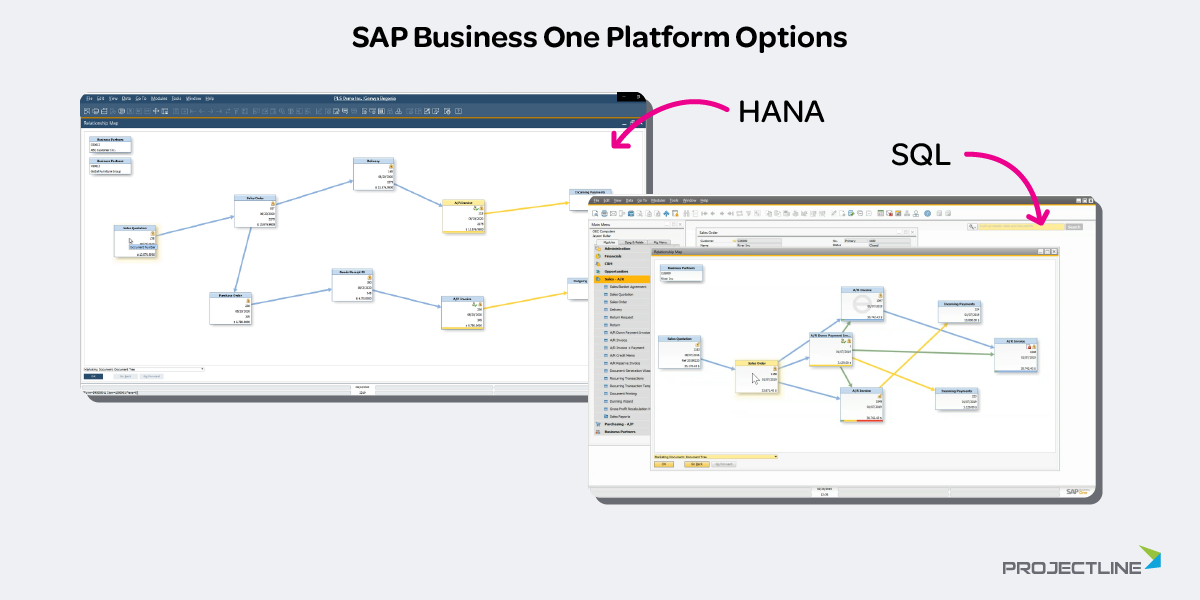 2. Pervasive Analytics Dashboard Designer
With pervasive analytics in HANA, you have an intuitive dashboard builder, where you can drag and drop pre-defined or custom widgets onto your dashboard. You can also embed visual KPI widgets into core objects (like a Business Partner), so you don't have to navigate back to your dashboard for reporting.
It's a good option for non-technical users who want a quick and easy dashboard builder, but it does have limitations on how much you can customize the widgets and queries behind them (which I'll talk about in the next section).
By comparison, the SQL version doesn't come with a built-dashboard designer, but there are other options available that give you just as much (if not more) capability. You can learn more about this in our article on HANA vs SQL dashboard options.
3. Semantic Layer
The semantic layer basically interprets the underlying data in columns and rows into a user-friendly query view. It's a way for non-technical users to build dashboard widgets and reports with a graphical interface that handles the query writing and calculations for you. Simply select options from the pre-defined list, then drag and drop into the report or dashboard builder.
On the surface, this is a great feature – provided you're satisfied with basic reporting and limited customization. If you need to dig into the data a bit more, you'll likely run into limitations.
For example, let's say you want to include Net Sales Amount in a report, so you select the pre-defined object from the list and drag it into your report. Then your accountant comes to you and asks how that number was calculated. Because the calculation is done behind the scenes, you don't have visibility into how it's done. Now, let's say you want to customize the calculation. You can't easily do that with the pre-defined values, so you'd be starting from scratch with a new query (the same as you would on the SQL platform).
If you're interested in learning a bit more about this, head over to our article on the reporting differences between HANA and SQL.
4. Enterprise Search
According to a member of our presales team, 'beautiful' is the word to describe the enterprise search feature in SAP Business One, version for HANA. And he's not wrong.
When you have a question about anything, what's the first thing you do? Head to Google and type in your query.
Enterprise search is like Google for your business – you can type in a keyword (like a customer name or item number) and you'll get a nicely organized list of results, with the option to drill-down for more information.
5. Workflow Customization
Your business needs and processes will change over time, that's inevitable. Sometimes you're making a big change that requires assistance from your SAP Business One partner. But for those times when you have a simple change to make, your internal system administrator can easily edit the workflow and documents to match your business needs using HANA's Workbench tool. It's pretty handy, especially if you have strong technical resources on your team.
Do we need a HANA or SQL database for our SAP Business One system?
The answer will always depend on your business requirements. But, in our experience HANA makes the most sense for companies with high transaction volumes and a large database size. There's no hard and fast rule here, but this would likely be a company that's $100 million in revenue, has over 100 ERP users and processes hundreds of transactions per hour.
For companies under that threshold, the promise of HANA's increased performance may not be realized due to the incremental infrastructure cost compared to the SQL version. The hosting costs can be significantly higher than the cost of hosting a SQL system and if you choose to host on-premise, you'll need qualified Linux expertise to maintain your servers (which is harder to find).
Based on our 18+ years of experience as an SAP Business One partner, the SQL platform typically delivers better value for our SME customers. But we're big believers in the right solution for the right company – which means the right version of SAP Business One is entirely dependent on your requirements. If you'd like to chat more about SAP Business One and see how it works for your business, connect with our team. We're here to guide you through the process and help you find the right fit ERP software.