Most small to mid-size companies start out using basic accounting software. The simplicity of QuickBooks and the like is appealing. And these applications will work for a while. But as your finance and accounting needs become more sophisticated, the gaps in your software become obvious.
Heavy reliance on spreadsheets is often the first clue. An FSN survey found that 58% of SMEs are spreadsheet bound and can't provide timely support to other areas of the business. That alone can significantly reduce the productivity of your finance team. Not to mention the impact on your ability to make fast, confident decisions.
If we look at the top challenges currently facing CFOs, technology is at the heart of it all. Without the right accounting software, your ability to manage the company's finances effectively will be limited.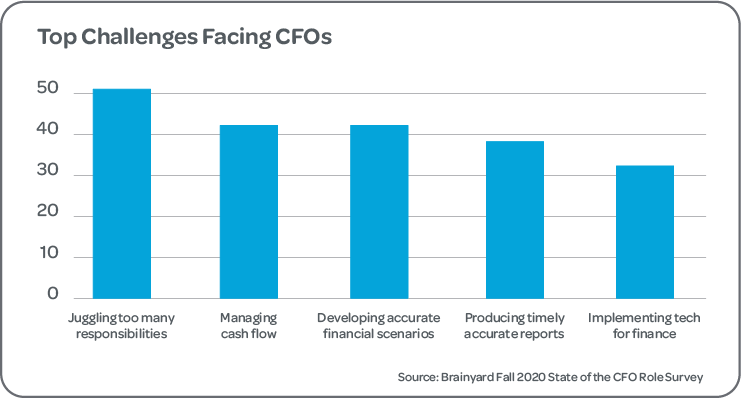 Moving to an ERP system solves many of these challenges. The visibility of information alone will take you miles beyond what you can do with stand-alone accounting software. But let's dig a little deeper – here's how you can use ERP to improve financial management.
1. Integrate finance with other areas of your business
Without an ERP system, you're forced to pull reports from multiple systems and reconcile in spreadsheets before you can begin to make sense of the data. This adds complexity and, more importantly, time. From a financial perspective, you want to make decisions based on up-to-date accurate information – not numbers from a point in time three weeks ago.
Integrating your business into a single ERP system sets the foundation for growth and improvement. According to a Brainyard survey, using data more effectively is a priority for 58% of CFOs. ERP software makes this possible. Having financials, sales, purchasing, etc. in one system gives you greater visibility into performance – which in turn gives you greater control.
2. Use rich financial reporting to understand your performance
If you're struggling to produce accurate, timely reports, you're not alone. Better reporting is a top priority for 57% of finance departments.
Think about the financial reports you can run in your stand-alone accounting software – income statements, cash flow statements and balance sheets. Is that enough for you to truly understand how you're performing?
ERP software, on the other hand, gives you deeper insight into your performance. You're not just looking at the financial piece. You can see how activities in other areas of the business impact financials. For example, you can run cash flow projections based on order status and inventory. Or evaluate A/R aging combined with your order pipeline to understand the impact on cash flow. With access to data from across the business, you can run reports using real-time data to make quick, but informed, decisions.
3. Reduce data entry errors and duplicate effort
On average, you can expect a data entry error rate of 1%. After all, no one's perfect! But it's common to see rates above 1%, especially when you have multiple systems involved. Each manual re-entry point introduces an opportunity for human error. And in finance, something as simple as a misplaced period can cause big problems that take time to unwind.
When you move to ERP software, error rates drop because you have fewer manual inputs. Transactions are entered once, instead of being re-entered into two or three systems. And when errors do occur, it's far easier to track down mistakes. You can trace the document trail to see all transactions that were impacted and see which user entered the transaction. This allows you to do refresher training if required, to prevent future mistakes and help you stick to that 1% target.
4. Increase efficiency with automation
The automation you get with ERP software is a game changer. Consider your regular accounting tasks – invoicing, payment collection, payables, etc. How much time do you currently spend on each of these tasks? I'll bet it adds up quickly. And that time comes at a cost.
Now consider the alternative…
And that's just two of your everyday functions! When you apply automation to other functions like month-end close, collections, etc. the impact is cumulative. The extra time your finance and accounting team gains can be redirected to other work that requires the human touch – things like budgeting, forecasting and analysis. These activities drive improvement and can help you identify opportunities that you're more likely to miss when you're heads down in manual tasks.
5. Improve fixed asset management
Most ERP software includes fixed asset management capabilities to help you track and manage company assets (e.g. machinery, buildings, electronic equipment, etc.). It allows you to depreciate the cost over the life of the asset using different depreciation methods – without the headache of doing the calculations manually. Automating this process increases efficiency and helps you eliminate hidden costs.
6. Greater control of finances
Coming out of the COVID-19 pandemic, 43% of CFOs see effective cash flow management as a top challenge. To tackle this challenge, the same number are focused on identifying areas for savings.
Using ERP software for financial management makes this possible. With a bird's eye view of your financial and operational performance, you can easily spot the opportunities to save. The automation you introduce in your accounting processes can have a noticeable impact on cash flow. For example, companies that run NetSuite ERP have reduced days sales outstanding by 10% to 20%. Not to mention that simply using ERP to run your business helps you save money in the form of efficiency and lower headcount. Collectively, these seemingly small gains can give a boost to your bottom line.
Ready to upgrade your financial management?
We've touched on the benefits of ERP for your finance team here. Improving financial management alone could transform your business. But ERP software doesn't just touch one part of the organization – it extends to every corner. So, if you can achieve this just on the financial side, consider the possibilities across your entire business.
As a leading ERP partner, we help small and mid-size businesses in Canada and the US successfully transition to ERP. We're here for you every step of the way, from evaluation, through implementation and beyond. Start your journey with our step-by-step guide to selecting ERP – it answers all your questions (and more).