When your ERP software includes CRM functionality, does it make sense to use a best-of-breed CRM solution instead?
It all depends on your CRM requirements and whether the built-in capability of your ERP solution can meet your needs. For most small and mid-size businesses, the CRM features in their ERP will suffice. But for others that have more sophisticated processes across sales and marketing, a more robust CRM might be necessary.
For example, our sales and marketing teams live in the HubSpot CRM as it provides a more complete picture of our prospective customers as they interact with us online, navigate our website and engage with our sales team. But we've integrated our HubSpot CRM with our ERP to ensure we maintain accurate company and contact data in both systems.
And that's the key if you want to run a best-of-breed CRM – integrating with ERP to maintain a single source of truth and give everyone on your team the visibility they need.
What's the Difference Between ERP & CRM?
Before we get into the benefits of an integration, let's talk quickly about the difference between ERP and CRM.
CRM (Customer Relationship Management) software is used by marketing, sales and service teams to manage customer information and interactions. It offers tools to help you manage the companies and contacts you interact with, generate sales activity and improve customer satisfaction.
ERP (Enterprise Resource Planning) software is used to manage the back-end processes in your business, including financials, inventory, production, sales and more. Where CRM is focused only on revenue generating activities, ERP also helps you optimize internal processes and lower operational costs.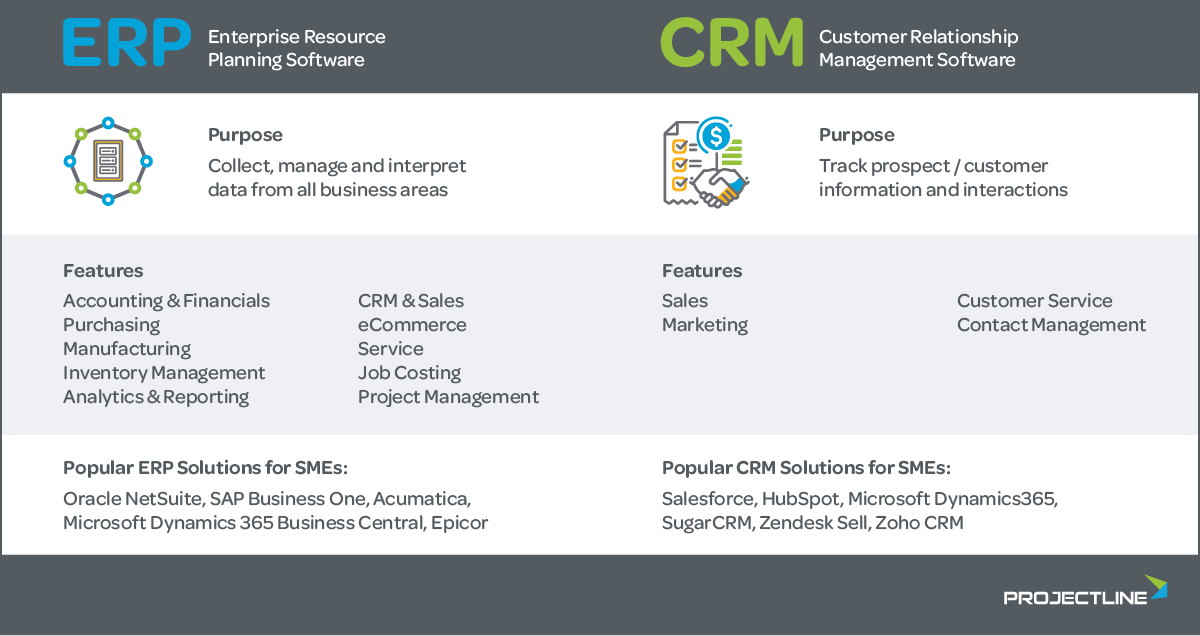 Benefits of Integrating ERP & CRM
So, you've decided that running a stand-alone CRM software makes the most sense for your business. Now you have two sets of data that overlap – one in your CRM and one in your ERP. That can make everyday processes more challenging. For example, if one of your sales reps wants to see a customer's order history or outstanding payments, they'll have to work in two systems. This might take you back to life before ERP, when you were trying to manually reconcile data between systems on a regular basis. And that's why you integrate – to avoid that pain!
We like to think of our HubSpot CRM as an added layer on top of our ERP platform. Sales and marketing have greater insight into prospect activity and tools that make everyday sales activities more efficient. But the overlapping data is feeding into our ERP system so other teams in the organization have up-to-date information on contacts, companies and sales forecasts.
That's the beauty of integrating CRM and ERP – different teams have the tools and data they need for their functions, while still sharing information in real-time with other parts of the business. If we dig a little deeper, here are some specific benefits of an integrated ERP and CRM solution.
Get a complete view of your customers with information collected across sales, marketing, service, accounting, etc. so you can make better decisions that improve customer satisfaction.
Boost efficiency with automated processes that flow seamlessly between systems.
Reduce manual effort on duplicate data entry and reconciliation.
Focus on higher value work that drives customer engagement and revenue generation.
Get more accurate financial forecasts with up-to-date sales pipeline information.
ERP & CRM Integration Challenges
All that said, integrations inevitably add complexity. But they can add value when implemented correctly. We recommend working with an ERP partner that has experience creating integrations to get the best result. And prepare for these potential roadblocks ahead of time so you're not caught off guard.
Standardizing data across business processes can be challenging when each system tracks the data differently. You'll need to put some rules in place to transform the data as it's synced and ensure consistent data entry going forward.
Lack of resources can slow down the implementation. This could be your internal IT resources or super users that understand how the data is used in both systems. Your ERP partner can provide support on the technical side and will recommend a design for the integration based on your processes.
Cleaning customer data is a time-consuming, but necessary, step for a strong integration. You'll need to reconcile the data between both systems and clean for completeness, consistency and accuracy before your integration goes live. These data migration best practices will be a helpful starting point.
Reap the Benefits of an Integrated ERP & CRM Solution
In our experience, it's best to use the native CRM functionality in your ERP system if you can. That's your best bet to keep processes simple and efficient.
But if you decide that a separate CRM is the better fit for your needs, find an ERP partner that can build a seamless integration. The money spent will be worthwhile to create a complete solution that ties your data together and maintains company-wide visibility.
As an ERP partner, we've built many ERP integrations for our customers (and ourselves). In fact, it's one of the cornerstones of our success. We're here to help when you're ready to chat. Book a call with our team to get started.