For the Third Year in a Row, SAP Business One Implementation Partner Recognized as One of Canada's Fastest-Growing Companies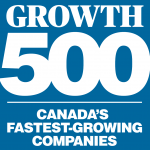 Saskatoon, SK, September 13, 2018 – Canadian Business and Maclean's today ranked ProjectLine Solutions number 385 on the 30th annual Growth 500, the definitive ranking of Canada's Fastest-Growing Companies. Produced by Canada's premier business and current affairs media brands, the Growth 500 ranks Canadian businesses on five-year revenue growth. Growth 500 winners are profiled in a special print issue of Canadian Business published with Maclean's magazine and online at CanadianBusiness.com and Growth500.ca.
ProjectLine made the 2018 Growth 500 list for the third year running with strong five-year revenue growth.
"The companies on the 2018 Growth 500 are truly remarkable. Demonstrating foresight, innovation and smart management, their stories serve as a primer for how to build a successful entrepreneurial business today," says Deborah Aarts, Growth 500 program manager. "As we celebrate 30 years of the Canada's Fastest-Growing Companies program, it's encouraging to see that entrepreneurship is healthier than ever in this country."
"We're honored to rank on the Growth 500 for the third year running," says ProjectLine CEO, Derin Hildebrandt. "We have worked tirelessly over the past five years to achieve continued growth and will continue to do so moving forward. Our rise on the list is a testament to the strength of the services we provide, the dedication of our team, and the continued loyalty of the customers we serve right across Canada."
About ProjectLine Solutions
ProjectLine is a solutions provider that specializes in the implementation and support of software systems that improve business performance. As an SAP gold partner that has been in business since 2001, we have provided clients across Canada with world-class software solutions and business consulting services that have enabled them to grow their businesses and be more profitable in today's competitive business market. To learn more about how ProjectLine improves business management with SAP Business One, resulting in enhanced quality and streamlined decision making, visit www.projectline.ca.
About the Growth 500
For 30 years, the Growth 500 has been Canada's most respectable and influential ranking of entrepreneurial achievement. Ranking Canada's Fastest-Growing Companies by fiver-year revenue growth, the Growth 500—formerly known as the PROFIT 500—profiles the country's most successful growing businesses. The Growth 500 is produced by Canadian Business. Winners are profiled in a special Growth 500 print issue of Canadian Business (packaged with the October issue of Maclean's magazine) and online at Growth500.ca and CanadianBusiness.com. For more information on the ranking, visit Growth500.ca.
About Canadian Business
Founded in 1928, Canadian Business is the longest-serving and most-trusted business publication in the country. It is the country's premier media brand for executives and senior business leaders. It fuels the success of Canada's business elite with a focus on the things that matter most: leadership, innovation, business strategy and management tactics. Learn more at CanadianBusiness.com.
– – –
SAP Business One is the registered trademark of SAP AG in Germany and several other countries.
Media Contact:
ProjectLine Solutions Inc.
Jalene Ippolito
jalene.i@projectline.ca
3030 Louise Street Saskatoon, SK S7J 3L8
306-373-3150 EXT 124