In today's tech landscape, the overlap between software categories is continually increasing. We're seeing CRM providers like Salesforce encroaching on the ERP space with add-ons and integrations to handle sales quotes, orders and even financials. Likewise, any ERP solution worth its salt will include CRM functionality. The line is blurring in a way that's getting harder to distinguish between the two. So, you might be wondering – what's the difference between CRM and ERP? And more importantly, as a growing business, do I need CRM or ERP? Or do I need both?
What is CRM (Customer Relationship Management)?

A CRM (Customer Relationship Management) system provides a centralized location to track customer information and interactions with the aim of improving customer satisfaction, retention and service. Primarily used by marketing, sales and service teams, CRM offers a collection of tools to manage the companies and contacts you interact with and build profiles of your prospects and customers. Specifically, you can expect to find functionality like:
Company and contact management

Activity / task management

Sales pipeline and opportunity tracking

Sales quoting and orders

Email marketing and campaign management

Customer service
Consider it an outward looking system that's focused on the businesses and contacts that are or could be customers. Companies that use CRM often see increased efficiency and improved visibility into the status of prospects and customers. These interactions are no longer trapped with your salespeople or customer service reps – the information is accessible to your entire team. Improved relationship management often leads to financial returns through increased sales revenue and higher customer retention rates.
While a CRM solution can certainly yield significant results, keep in mind that it's use is limited primarily to marketing, sales and sometimes customer service. Bringing these groups closer together and opening the lines of communication is an important first step in transforming your organization – and if that's where you're feeling the pain, a CRM system could fit the bill. But what about the rest of your company?
What is ERP (Enterprise Resource Planning)?
ERP (Enterprise Resource Planning) is a type of business management software that companies use to collect, store, manage and interpret data from activities across all areas of the business. It integrates your core business processes into a single system to manage day-to-day business activities more effectively. Where a CRM solution brings together sales, marketing and service in a single platform, an ERP solution extends that same concept to your entire organization. You can expect to find comprehensive functionality like: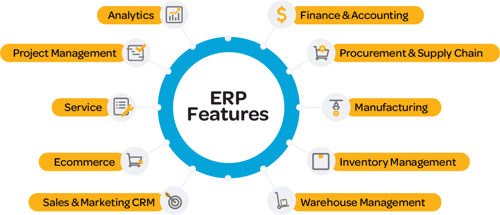 Company and contact management

Activity / task management

Sales (pipeline and opportunity tracking, orders, etc.)

Service

Finance and accounting

Banking

Purchasing

Job management

Project management

Production

Resource management

MRP (Material Requirements Planning)

Inventory management
Like CRM, an ERP system delivers increased efficiency, greater visibility and improved profit. Where they differ is that an ERP solution is focused on internal improvement, through process automation and increased productivity. Financial benefits are typically seen through cost reductions across the organization, incorporating users and processes across all business areas.
Which software does my SME need – ERP or CRM?
There's no one answer that's right for all companies – it all comes down to your business needs, the investment you're willing to make and where you're headed in the future. But in a lot of cases – particularly if you're a high growth company – the answer is both. Consider the overlapping benefits of both systems – increased efficiency, greater visibility, improved profitability. Either one of these could deliver decent results on its own, but what could you do with a combination of the two? Using CRM to increase revenue through improved relationship management and leveraging ERP to reduce operational costs through process automation – that's a winning combination.
As mentioned earlier, most modern ERP solutions will include CRM capabilities, which give you a unique advantage to extend those same benefits of CRM to other areas of the organization. Despite popular belief, CRM isn't just for sales guys anymore. Something as simple as giving your accounting team the ability to track follow-up activity on overdue accounts could reduce your time to collect payment, having a positive impact on cash flow.
Depending on your needs, you may feel you need the expanded capabilities of a best of breed CRM. Think about how this works with your other technologies, particularly your ERP system. You want to avoid having a CRM that's separate from the rest of the business. Consider how you might leverage an ERP system with a best of breed CRM integrated as a layer on top, giving you the best of both worlds.